Crafting Your Customer's Journey: From cold lead to warm fuzzy buyer!
Mar 03, 2022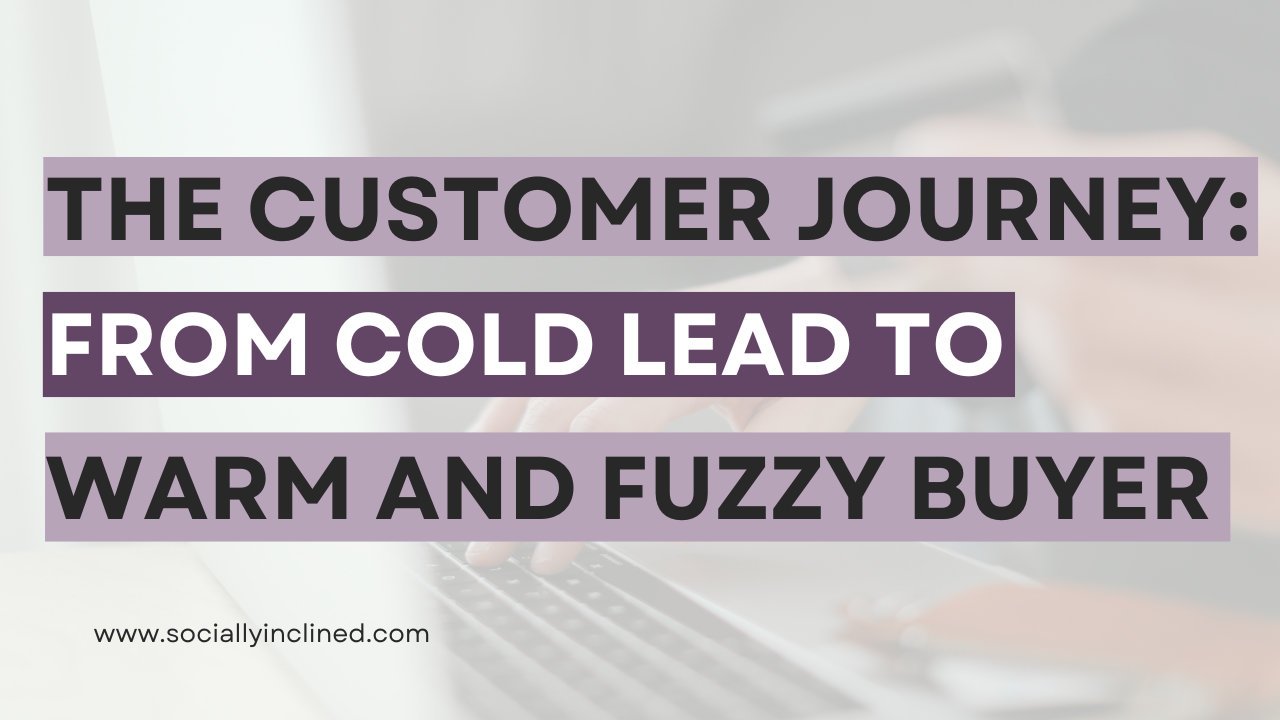 The Customer Journey... Sounds really fluffy and obscure, but it's really just how to guide your leads from being cold & curious about you and your biz to becoming loving, loyal, and buying clients.
It's all in how YOU lead them through this journey!
If you tend to get people interested, but then they don't buy, it may be because they don't know what to do next!
Let's fix that!
Here's a quick look at what the customer journey could look like if you are say a Success Coach:
They see a piece of your helpful content from a new hashtag you tried and decided to check out your bio. When they did, they decided to optin to your awesome, super helpful freebie.
Then they got an email that invited them to join your Facebook Group...
Where they got on a LIVE call where you invited them to join your $15 a month "Confident Classy Biz Moms" Academy. They said heck yes, and became a member of your program!
You deliver consistent value in your Academy and send out regular emails that provide value and help them with their problems.
So when you send an email inviting them to become a VIP client where you serve them in a super-custom way... they are happy to buy your $297 VIP masterclass.
You continue delivering value and building that relationship until you are serving them at the top of your value ladder.
This process looks different for every business, but it works the same in all businesses.
Most people aren't going to buy from you the first time they come in contact with your content, freebie, or how-tos.
So give them a place to start (that isn't buying), and then lead them gently along a journey where you provide value and start small with your offers. If you get this first part right, the sky is the limit!
Watch this replay for industry specifics and tips for crafting a customer journey when you are a direct seller or in network marketing. Yes, it still works!
3 Truths About The Customer Journey
Truth # 1
If you don't tell them what action to take first, they'll have no idea where to begin. Make your CTAs (call-to-actions) crystal clear! So they know how to optin, interact with your freebie, or join your group!
Truth # 2
You have to deliver MASSIVE, Consistent Value. You can't ghost someone after they decide to become a part of your community. Show up and answer their questions, fix their problems, and help them... for FREE!
Truth #3
Respect where they are in "the journey" but keep showing them where they COULD go next. Not everyone is going to buy... no matter how perfect your offers are. Respect that. Instead of pushy sales, put out gentle reminders about how you can work together going forward in the P.S. of all your emails!
Take these 3 things into account when you're considering why more leads aren't becoming clients. Make adjustments and enjoy the results!
Need more help? We got you! Here are 4 ways we can start working together today!
👉 Download the FREE Your Social Plan and treat yourself to some done-for-you (DFY) posts! https://www.sociallyinclined.com/free-calendar
👉 Start your Your Social Plan membership today to get 3 posts scheduled for you every single day! https://www.sociallyinclined.com/your-social-plan
👉 Learn how to write AHHHmazing content that attracts your people and gets them to buy! Become an Academy Member and join us for a PRICELESS weekly Content Class! Learn more here. https://www.sociallyinclined.com/offers/UqJZthzE/checkout
👉 Need step-by-step instruction, how-tos, and tutorials on some of the most important tasks you need to grow your business online? Get access to Take Action Training here https://www.sociallyinclined.com/takeaction
Join Julie & Jess in their amazing Facebook Group Get Socially Inclined, where you get the tools, learn the skills, and find the motivation you need to CRUSH it! And best of all it's FREE!
Join Us Now
Want a whole TOOLBOX full of great business-building resources?
Click here to sign up to get access and join our mailing list to receive the latest and greatest news, tools, tips, and updates.
Don't worry, your information will not be shared.
We hate SPAM. We will never sell your information, for any reason.